About the CREATOR of this
"Proven" Feng Shui Certification Course: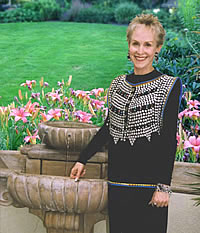 Suzee Miller Feng Shui Master®
Suzee Miller is the owner of Feng Shui Plaza a subsidiary of Feng Shui Paradigms & Suzee Miller Inc. She has been proactive in business and real estate for over five decades. As a successful Entrepreneur, Ms. Miller's accomplishments have been published in Who's Who In Business in California, and Who's Who of Women in Real Estate in the United States.
In addition, Suzee has studied under three Chinese Masters and is a graduate of the American Feng Shui Institute, the Lotus Institute of Feng Shui and Grand Master Yap Cheng Hai's Feng Shui Center of Excellence in Malaysia
Suzee has authored countless Feng Shui educational programs/courses and speaks at architectural, building, design and real estate conventions worldwide. She is a frequent guest on radio and TV, and is the creator of the FIVE ELEMENT BUSINESS SYSTEM®, that has helped thousands of business and real estate professionals achieve WEALTH in record time.
Her Feng Shui CERTIFICATION program is the only one of its kind in the world that opens up exploratory pathways for understanding the energy blueprint of parcels, lots, locations, homes, offices and commercial properties.
According to Suzee: "restructuring the subtle energy fields present in buildings, furniture, and even people can create sacred spaces that are vibrantly healthy and alive. As we enter the new millennium, I am constantly reminded that both the home and workplace must balance and harmonize time, space, people, and the environment as ONE Integral Entity... if we wish to magnetize Health, Wealth and Good Fortune in the 21st Century."
Suzee as Featured on TV
According to Suzee:
"Feng Shui IS NOT about Philosophy, Religion, Superstition, nor is it an occult practice.
Feng Sui is the Study of ENERGY, and how Energy IMPACTS our Homes, Offices, Listings, Careers and Lives.
The goal of GOOD Feng Shui is to regulate "the flow and accumulation" of POSITIVE Life Force Energy called "Chi" (aka Ch'i, Qui, Qi, and Ki)
When this is accomplished, Time, Space, People and the Environment unite as ONE integral entity that ATTRACTS Opportunity, Blessings and Good Fortune... EFFORTLESSLY
Simply stated, FENG SHUI is a unified field of Energy – referred to in our Western culture – as Quantum Mechanics or Quantum Physics.
A Feng Shui BALANCED habitat or environment promotes Peace, Balance, Harmonious Relations, Vitality, Health, Love, Wealth and Prosperity.
Feng Shui and its applications in real estate SELLS property FASTER, irrespective of what IS or ISN'T happening in the economy at large!"
Feel ADVENTUROUS and SAFE
Learn how to accumulate and control POSITIVE energy
with
GRACE, GLORY and EASE
Feng Shui Truth and Tips
Click here to get Feng Shui Master Suzee Miller's "daily"
Feng Shui TRUTH and TIPS!
Click here to ask Suzee a Feng Shui Question!
Feng Shui Truth and Tips
Click here to get Feng Shui Master Suzee Miller's "daily"
Feng Shui TRUTH and TIPS!